I've worked remotely as a software engineer at western product companies for the last three and a half years while living in eastern Europe. Let me show you my current resume and the thought process behind it so you can find some bits to improve your resume.
When we design a resume, we should remember the person that will read it. At a small startup, it could be a founder looking for a generalist interested in the domain area of the startup. In a big company, it could be a recruiter that only needs years of experience and a list of technologies.
While it could be beneficial to tailor your resume to a specific company, it takes time. Let's better focus on making a generic resume highlighting your work experience at full-time jobs that will sell you well to different companies.
We have a limited amount of real estate in our resume, and we need to sell the skills and experience that will matter the most for our next position. We can show less old or irrelevant experience and expand on the recent work at more significant companies or job positions.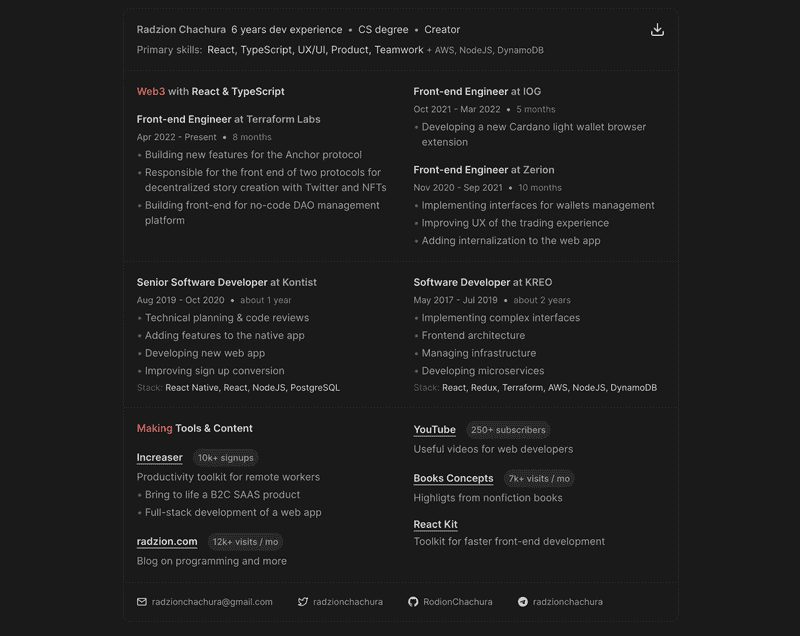 We start with a summary. Here we have my name, years of software development experience, mention of my CS degree, and status of the creator. I didn't get my degree in a well-known university, so there is no point in mentioning its name, and the creator means that I can build projects from zero, and I've made some things independently.
Like many other knowledge workers, I would prefer an asynchronous job as possible that wouldn't care about my location but rather judge by performance. Combined with the fact that I live in a country that doesn't overlap with US work hours and only covers half a work day with western European countries, I omit my location in the resume. Yet if you are in a good timezone, you can show it.
I started programming seven years ago and worked with a bunch of technologies, but there is no reason to list all of them. Instead, I list the ones I am most familiar with and would like to continue using in the following position. While I'm a full-stack developer, I've done much more front-end work, so I list my back-end skills with less emphasis.
The second section goes right into full-time job experience. It has two sections, first has my web3 front-end experience that I would likely need to get a crypto job, while the second part shows my early career as a full-stack developer. Here we focus on my responsibilities having those positions at given companies. I show technologies of the most recent jobs at the top only once because there were roughly the same across companies.
After job experience, we list side projects. While recruiters won't care about them, the projects would help you stand out from other candidates when you talk with team members and potential direct managers. Here we provide links to the project together with the main achievement. For a product, it could be signups or even better revenue, with a content website number of visits, in the case of a social platform - the number of subscribers.
In the footer, we show our contacts. As a developer, you would likely include GitHub and potentially Twitter. I didn't put my LinkedIn here because there wouldn't be anything more than already listed in the resume.